Biological
Talk

0
566pages on
this wiki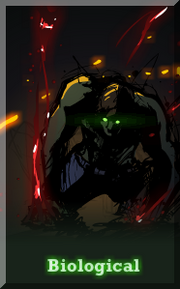 Biological is a class in Sonny 2. It focuses on physical attacks to deal damage; therefore, its main co-efficients are strength and speed.
There are two main character types in the biological class: Predators and Toxicants.
Predators are very much like Assassin class of Sonny; they have usually higher speed, and the main way of fighting is dealing maximum instant damage with the higher physical piercing as possible. Most of their attacks scale with their Strength and Speeds. Predators focus on dealing high burst damage and don't usually have healing abilities that work on team mates as their instinct is quite low. Good examples of predators are: Felicity and Specialists.
Toxicants have much higher health, resistance, and usually higher instinct than the Predators. Their abilities are more based on damage over time, and as their instinct is higher, they can use better healing spells. Also, Toxicants' attacks deal combined damage: the direct attack deals usually INSTINCT+STRENGTH damage and then the damage over time deals STRENGTH damage.
There is a mix of both Predators and Toxicants: the "survival type". This kind of way of fighting involves much higher health, and players usually employ it for helping the team mates. Survival way of playing involves very developed low level attacks and most healing abilities.
Abilities
Edit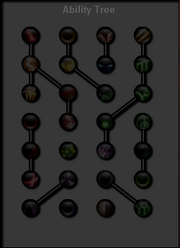 In column order, from left to right.